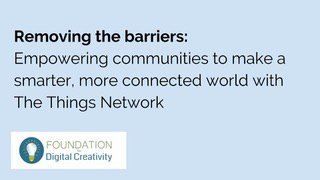 It's been a busy couple of weeks sharing and learning through the creative tech communities and contributing at events. Understanding the value of partnerships and collaborations has given us amazing opportunities with latest projects and plans moving forward.
Snippets below from some recent activities.
Andrew attended the Discover Shift symposium in Macclesfield on 13th February, and contributed to one of the panel discussions. Celebrating the pilot year of SHIFT, the cross sector symposium explored the convergence between the arts and digital, highlighting activities and themes developed throughout Cheshire East.
Nice to see @jamesmedd @gemmamaylatham and @fortyfourMu (plus a guy I *haven't* met) on the panel about the creative and digital crossover #discoverSHIFT pic.twitter.com/sq7m5Wziih

— Adrian McEwen (@amcewen) February 13, 2018
Another panel at The Things Network Conference saw Claire contributing to a 'building communities through LoRaWAN' discussion.
How can we create value for the community? #TheThingsConference pic.twitter.com/2PLyvURIqS

— TTN Liverpool (@ttn_liv) February 3, 2018
And the opportunity to share our strategies to help democratise access of the power of LoRaWAN for everyone through a keynote at the same conference.
Removing the barriers: Empowering communities to make a smarter, more connected world with LoRaWAN.
The presentation explores two areas of our programmes:
How can we develop more diverse and inclusive programmes to engage all citizens in real world problems through digital making and adopting LoRaWAN?

How can we effectively facilitate collections of digital storytelling projects engaging communities in cities across the North of England to creatively solve local issues?
In short?
With context and purpose through education:
Great to be able to share some our of brilliant partnerships at #TheThingsConference this morning. And we're always up for throwing a shipping container into a presentation!
Empowering communities to make a smarter, more connected world with @thethingsntwrk is team work#LoRaWAN pic.twitter.com/oG5tgzqYZj

— FDNdigicreate (@FDNdigicreate) February 3, 2018